29th March
We recently inspected a Wealden Hall House in Essex and found that there was a very limited amount of information online for potential buyers of these magnificent homes.
What is a Wealden house?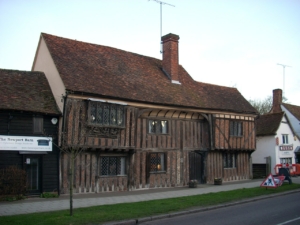 Monk's Barn is a Grade II* listed building in Newport, Essex.
A Wealden house is a type of medieval timber-framed house that was common in the Weald of south-eastern England, particularly in Kent and Sussex, during the 15th and 16th centuries.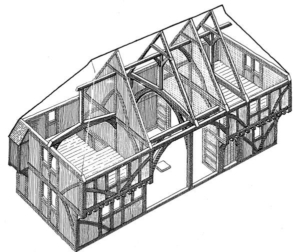 Its origins start in the South East, in the Weald of Kent and Sussex, but spread to other Southern English counties. They remain most prevalent in the South East, particularly in the surrounding areas of Maidstone. The distinguishing feature of a Wealden house is its layout, which typically includes a central open hall with a steeply pitched roof, flanked by two wings known as the "solar" and the "service" end. The solar end would have been the more private part of the house, where the lord and his family would have slept and entertained guests. The service end would have contained the kitchen, pantry, and other utility rooms. Wealden hall houses were often built by wealthy landowners who wanted to display their wealth and status.
Wealden houses were constructed using a timber frame, with walls made of wattle and daub or brick infill. The roofs were usually thatched, although some later examples had tiled roofs. The design of the Wealden house was well-suited to the agricultural lifestyle of the Weald, where farming and forestry were the main industries.
Over time, changes in building techniques and social structures led to the decline of the Wealden hall house. By the 17th century, new architectural styles were emerging, and the open hall layout was no longer practical for the changing needs of society. However, many examples of Wealden hall houses still exist in the Weald region of England and other parts of the country, and they are considered to be an important part of England's architectural heritage.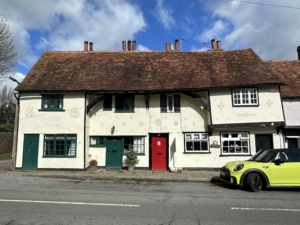 Milestone Cottage was built circa 1400 in Little Waltham in Essex. Note the external has been rendered. Examining the historical records shows that the building was rendered at least as early 1830 in a style known as Pargetting.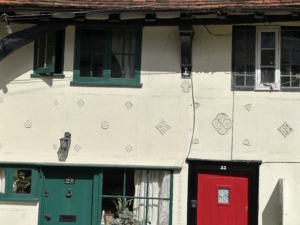 Pargeting is the ornamentation of plastered and rendered building facades that would otherwise be smooth, lined-out or roughcast. The term was once also used to include internal decoration.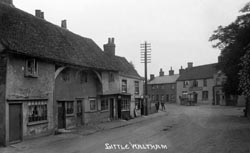 Early records show the building was rendered well over a hundred years ago.
Wealden hall houses were a popular architectural style in England during the medieval period, particularly in the 15th and 16th centuries. These houses were built with a central open hall flanked by two wings, and were often constructed of timber framing and wattle and daub.
Some of the typical defects or issues that are associated with Wealden hall houses include:
Structural instability: Because of the timber framing used in their construction, Wealden hall houses can be prone to structural instability over time. This is especially true if the timber has been subject to rot or insect damage, or if it has been poorly maintained.
Damp and water damage: The use of wattle and daub in the construction of Wealden hall houses can make them susceptible to damp and water damage as it deteriorates. This can be exacerbated if the roof is not properly maintained or if there are issues with the drainage around the house.
Poor insulation: Wealden hall houses were not designed with insulation in mind, and as a result, they can be difficult to heat in the winter and may be prone to drafts.
Fire risk: The open hall design of Wealden hall houses means that they can be particularly vulnerable to fires. This risk is increased if the chimney or fireplace is not properly maintained.
It's worth noting that many of these defects or issues can be mitigated through proper maintenance and renovation. However, because of the age and historical significance of Wealden hall houses, it's important to work with a qualified and experienced contractor who has experience working with historic properties.
Surveying a timber-framed Wealden hall house to identify structural issues, damp problems, insulation deficiencies, fire risks, and other potential defects. Our experienced surveyors provide detailed reports and recommendations for remedial work to preserve the historic integrity of the property. Contact us for a professional survey today.