31st August
Victorian and Edwardian houses, what type of building survey do I need.
What type of survey do I need on a Victorian or Edwardian house?
Smith Heritage recommend that for a Victorian or Edwardian house, based on their age, style and size, a Building Survey is required. This will help identify potential defects, what materials were used and what changes have occurred.
The RICS Level 3 Building Survey is more detailed than the RICS Level 2 Homebuyer Report, gives more detail about breathability (vapor permeability) and provides recommendations (usually to reverse what the previous owners have completed).
What is a Victorian/ Edwardian Building and how are they characterized?
Edwardian building surveyed by Steve in London.
The Victorian era ran from 1837 to 1901 under the rule of Queen Victoria I, The Edwardian period (King Edward VII) ran from 1901 to 1910 and was heavily influenced by The Arts and Crafts Movement.
Internally, high ceilings and large windows were a feature of Victorian homes, but the rest of the layout became a little bit cramped compared to previous Georgian designs, with a long and thin footprint. Often Victorian homes are one room wide, with a narrow hallway leading off into the different entertaining rooms, or two up, two down with just two rooms on each floor.
Externally, we see rows of terraces spread along well designed street scenes with the right number of churches and public houses on every corner. We see large pitched roofs with high chimneys as the fireplace becomes more economical and cheaper to run for the average family.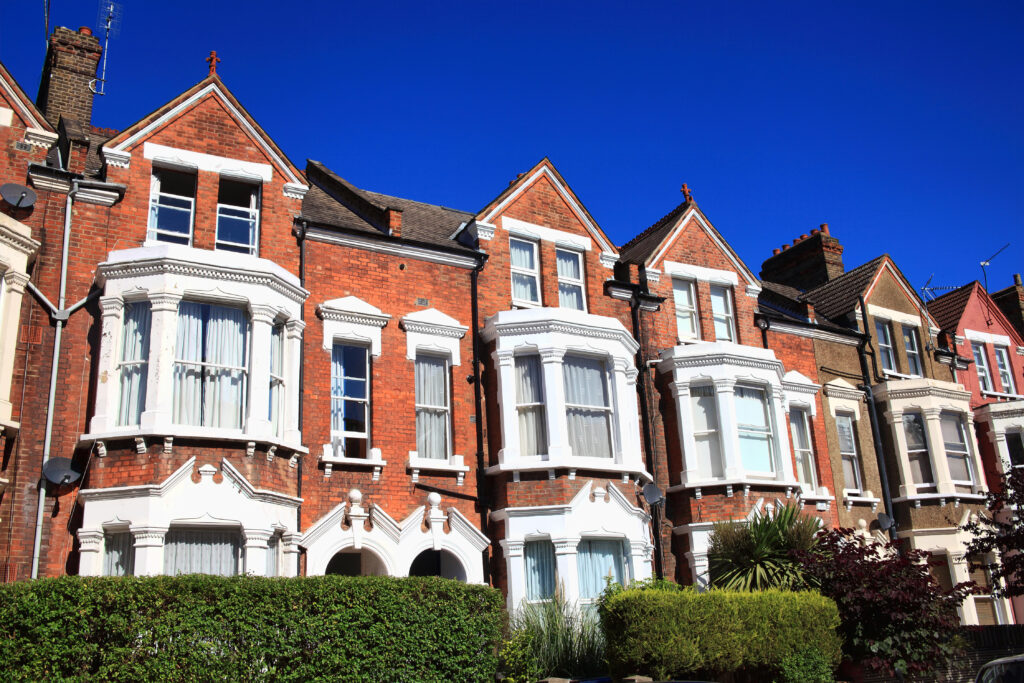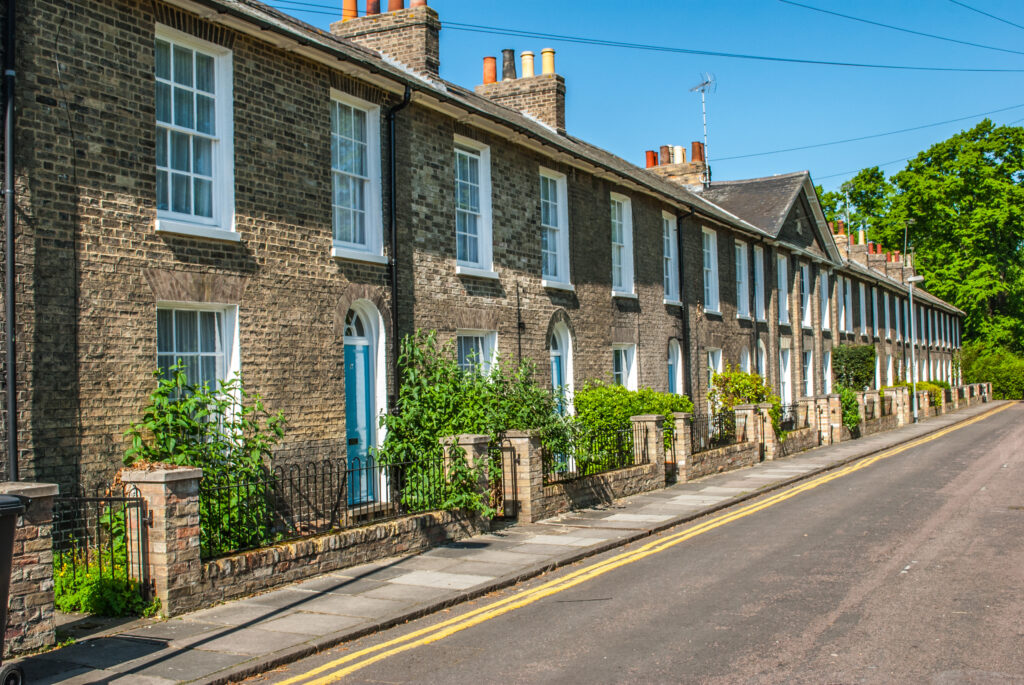 Are Victorian Buildings worth buying?
Contrary to what most agents and surveyors state, this was a truly golden age of British building. The Victorians were great builders. They had perfected a style of building which has been around for several thousand years, traditional solid wall construction.
We often carry out damp surveys on buildings where a sale has fallen through due to the surveyor finding damp using a protimeter, this has led to the inaccurate statement that old buildings are damp and cold, they are not, they are just poorly and incorrectly maintained. Quite often the dampness is misdiagnosed by incompetent surveyors, and this is an unfortunate truth, but one that you should be aware of.
By the Edwardian era the buildings were marvellous. A true phenomenon that we will never see again. Well built, warm, sustainable, stylish, and characterful buildings built using materials produced in the U.K. I wish the Government in their pursuit of sustainability would look back rather than forward. We knew what we were doing a hundred years ago. Rant Over.
You've probably come to this page though because you are a bit concerned about buying an older property. Which is understandable. But I would point out that much of the issues with any older buildings have been due to changes made in the last 60 years. It's a sad truth but often we will be advising in our surveys to remove cement pointing, concrete roof tiles, unblock chimneys etc. Understanding what you are buying, what changes have occurred is the first step to improving and future proofing your purchase.
I was going to write now a few common defects that we find on Victorian buildings. But then I changed my mind. Instead, I thought it would be good to de-bunk some of the inaccuracies you will find online.
Many Victorian properties are constructed with solid masonry walls. This type of construction is prone to rainwater penetration, particularly during periods of prolonged wet weather. Never going to happen. Studies by historic England have shown that walls soaked with a hose over a 24 hour period can penetrate up to 20mm of the outer skin. A solid wall is 230mm. It will not penetrate internally, the wall will absorb some water as it is porous, it will then evaporate when the sun comes out. Buildings have been working this way for thousands of years. Do not paint your walls with Storm Dry. Please.
Older buildings are vulnerable to rising damp! Get out of town. Are we back in 1999? Rising damp does not exist. Put a dry sponge on top of a pool of water and see if one of the most porous things you imagine will start magically transferring moisture horizontally. It won't. Why, because we have a thing called gravity which stops floating.
Older buildings are cold! Wrong. They are poorly maintained. A cold or damp wall is 30% less efficient at retaining heat than a dry wall. Walk around and look at any Victorian row of houses and you will note that the ground levels will have been raised externally, the walls will be rendered or pointed with cement. All ingredients to trap moisture and create a wet wall. Changes that have occurred in the last 60 years. Simples.
Ok so a couple of things to look out for, cos the Victorians weren't perfect, common issues, include:
Bays were often constructed on minimal or nil foundations to can come away from the main building.
Joists often run side to side rather than front to back which meant the walls can bulge.
Subsidence, particularly in clay areas such as London. Ensure drains and external areas are well looked after to reduce this risk.
Dampness and water damage: Due to poor insulation, inadequate ventilation, and lack of damp-proof courses, Victorian buildings can suffer from dampness and water damage.
Structural problems: Victorian buildings often have heavy ornate features, such as towers and turrets, which can put extra stress on the structure, leading to cracking and subsidence.
Poor insulation: Many Victorian buildings were not designed with energy efficiency in mind, leading to poor insulation and high heating costs.
Lead poisoning: Victorian buildings often contain lead in their plumbing and paint, which can be a health hazard if not properly handled.
Fire hazards: Victorian buildings often have poorly-designed heating systems, electrical wiring, and timber features, which can increase the risk of fire.
Pests: Victorian buildings are prone to pests, such as woodworm and dry rot, due to their wooden features and damp conditions.
Overall, Victorian buildings require regular maintenance and updating to address these issues and ensure their longevity.
We are specialists in surveys of Victorian and Edwardian Building's. Please do get in touch for a quote or further information.