17th June
Surveying Salisbury, Wiltshire: Building survey findings in Salisbury & Wiltshire.
We have been established for several years and our main surveying practice is in Salisbury in South Wiltshire. If you are interested in a RICS Level 3 building survey or an RICS Level 2 Homebuyer report, you can get an instant quote by clicking here.
Wiltshire is a county in South West England known for its historic buildings and landmarks. Some of the most notable buildings in Wiltshire include:
Stonehenge: A prehistoric monument located near Amesbury, considered one of the most famous sites in the world.
Salisbury Cathedral: A Gothic cathedral located in the city of Salisbury, famous for its 123-metre spire, one of the tallest in the world.
Longleat House: A stately home located near Warminster, known for its Tudor architecture and parklands.
Avebury Stone Circle: A prehistoric monument near Marlborough, consisting of a series of standing stones and earthworks.
Lacock Abbey: A former monastery located near Chippenham, now used as a museum and popular film location.
Salisbury is a city located in the county of Wiltshire, South West England. The city has a diverse range of housing styles reflecting its history and architectural heritage. Some of the common types of houses found in Salisbury include:
Georgian homes: Built during the reign of King George I, Georgian homes are characterized by their symmetry, classical details, and large windows.
Victorian homes: Built during the reign of Queen Victoria, Victorian homes feature intricate brickwork, bay windows, and decorative details such as dormer windows and porches.
Edwardian homes: Built between 1901 and 1910, Edwardian homes feature similar architectural details to Victorian homes, but with a more modern feel.
Terraced homes: Common in cities across the UK, terraced homes in Salisbury are typically narrow and tall, with two or more stories and a shared wall with neighboring homes.
Contemporary homes: While Salisbury is known for its historic architecture, there are also modern homes in the area, often featuring clean lines, open floor plans, and cutting-edge technology.
These are some of the common types of houses found in Salisbury, and the city's architecture reflects its rich history and diverse cultural influences.
Building surveying in Salisbury is very varied, enjoyable and at times challenging given the age of much of the city, as well as noting the number of changes and social developments. Much of Salisbury centre is medieval and we often find remnants of medieval structures often left unnoticed and undisturbed in unknowing building owner's home.
The common issues we see in Salisbury are often through poor maintenance leading to damp, decay and structural defects.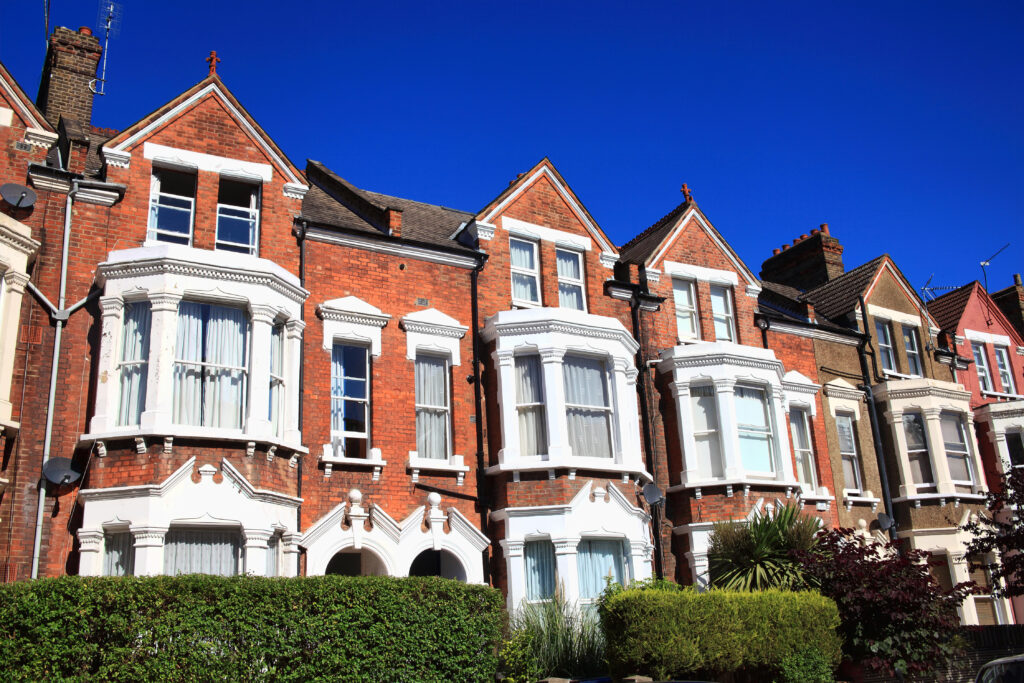 RICS Level 3 Building Survey of a Victorian Terrace in Fisherton.
As mentioned, Salisbury has a rich history with buildings dating back to the 13th century. Much of our construction materials was sourced locally hence we see a lot of timber, stone, and thatch which are indicative of our local surroundings. These materials which have stood the test of time still require care and ongoing maintenance. Understanding what the major causes of building decay are and specialising in listed and historic building surveys has set us apart from other surveyors in Wiltshire.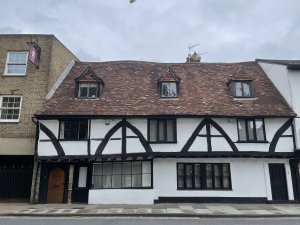 We surveyed this timber framed, grade II listed property on St Johns Street which started life in the late 15th century.
It must be said however that around 50% of our work is on buildings which are not listed, are not historic and are on properties built after 1930. The RICS Homebuyer Report service has been an area of constant growth since we entered the market a few years ago. As with much of the rest of the country, Salisbury and Wiltshire generally has seen much development through new build estates and therefore this service we see as an area of significant growth. It should be noted however that our surveyors, the residential property surveyor's association and RICS have all identified the need for a thorough survey on new building including the need for snagging surveys on new builds.
Looking at the different styles and ages of building in Salisbury we will look at a few of the common defects we see on building surveys in Salisbury and Wiltshire generally.
Pre 1930
Victorian and Edwardian properties account for the vast majority of the UK's pre-1919 'traditional' housing stock. Salisbury was vastly extended in the late 20th century thus most of the surrounding areas such as Fisherton and Harnham are largely from this era, indeed in many towns and cities entire suburbs date from this era and comprise the bulk of the building surveys we undertake from Devon to Oxford.
A common mistake we see here is overloading structural timbers which is caused by replacing the original slate or clay roofs with heavier concrete tiles. Roof spread occurs when the downward pressure of the weight of the roof starts pushing against the rafters enough that the structure itself begins to move, either the roof starts moving downwards, or the walls start pushing outwards. This is a prolonged process but can cause severe damage to the integrity of a home
The next major issue are damp related issues which can affect structural timbers, leading to timber decay and cause health related issues to homeowners. The main cause in our experience has been through ill thought-out changes such as blocking up chimneys, draught proofing windows etc.
The Georgian housing stock in Salisbury sees the growth towards the North of the city up Castle Street, Bourne Hill and adjacent streets. Georgians were great house builders, or at least those who could afford it were. Generally, the houses we still see from this era are from the upper classes. The slums and working-class homes have largely fallen away or been built over. Which means that what remains has been largely preserved and looked after by people fo wealth which from a conservation perspective is a good thing as they can hopefully spend money to maintain it. Georgian buildings were often over built, with large structural walls and timbers meaning structural defects, although not impossible, if the buildings well maintained are rare. We often see these buildings with older services, drainage issues and window defects. Be sure to have a window specialist quote to overhaul those big sash windows, and make sure you are sitting down when they give you a quote.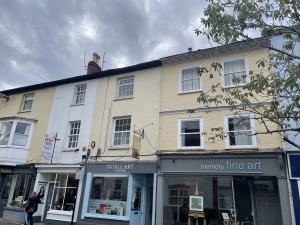 Georgian expansion into the North of the City.
Salisbury's expansion was aided by the arrival of the railways in the 1840s, resulting eventually in good links to London and Exeter on one line, and Bristol and Southampton on another.
Once the medieval period was over, Salisbury began to slip back in relation to other towns and cities, with its population hardly growing at all before the start of the C19th. Cloth production became much less important, and the city functioned more as a market centre. With the arrival of the C18th brick became an important material for its buildings, though quite often old timber houses were brought up to date by being clad to look like brickwork, using what are known as mathematical tiles.
The medieval housing stock in Salisbury is generally centred around the market square, cathedral and surrounding streets. These buildings really vary in construction techniques, materials and quality. Generally, those who had wealth such as the Church, nobility etc. were able to transport materials from far afield hence we see stone particularly in the surrounding villages, churches and Centre of Salisbury. The common folk were more than likely to have used timber as the main building material. Damp is by the fa the biggest enemy of timber framed structures which can be caused by a lack of maintenance, poor repairs but also internal moisture production leading to condensation. Certain building techniques of the time were still in their infancy and therefore few remain intact, usually the ground floors will have been replaced with brick or stone.
Post 1930
Building surveys properties built after 1930 and of standard construction require a RICS Level 2 Homebuyer Report.
As building and standards increased, through lessons learnt much of the historical defects have been resolved. However, common defects we see are related to hazardous materials such as asbestos and lead based paints.
We do see issues with the cavity wall which become a common way of building after 1930. With the ongoing push for greater energy improvements the retro cavity wall insulation industry has boomed, only pipped by cavity wall insulation removal companies.
Some basic advice when buying a building in Wiltshire:
Make sure you use a local surveyor. Salisbury and the surrounding areas are served by a larger than normal amount of unqualified surveyors offering off the shelf reports. Make sure your surveyor is a member of the Royal Institution of Chartered Surveyors and is reviewed on Google or similar.
We are very lucky to have a large number of listed buildings in Wiltshire. You can find out whether your building is listed by visiting the Historic England website . If you find the website hard to navigate then feel free to call us and we will help you.
Building Survey Wiltshire Planning: Much of housing stock in Wiltshire was built pre 1930 and has often been adapted, converted or extended which may have required planning permission or listed building consent. You can review what planning applications have been granted or denied for properties in your area by contacting Wiltshire Council at County Hall, Bythesea Rd, Trowbridge BA14 8JN, telephone 0300 456 0100, or you can check the local authority website.
If you need a building survey in Wiltshire, a building survey in Salisbury or the surrounding areas, feel free to get in touch with us.
You can also arrange your Wiltshire building survey and get an instant quote through our website here.